Board Members > Anjali Agarwal


Anjali Agarwal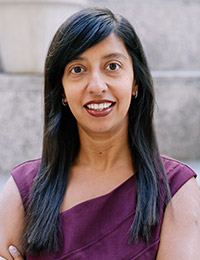 Executive Vice President, Asset Management

The Chartres Lodging Group, LLC
50 California Street
Suite 3300
San Francisco, CA 94111

Phone: 415.946.6295
Email: anjali.agarwal@chartreslodging.com

Web Site: www.ChartresLodging.com

Anjali Agarwal, Executive Vice President — Head of Asset Management, runs Chartres Lodging's Asset Management discipline, responsible for maximizing value of the company's $4 billion portfolio. In the past 11 years at Chartres Lodging, Mrs. Agarwal has led several successful repositionings, turnarounds and exits overseeing all aspects of the investment. In addition, she has been involved in over $2.5 billion of transaction activity and $600 million in renovations. In recognition of her successful track record in deal-making and turnarounds, she was awarded the top "40 Under 40" by M&A Advisor in 2013. Prior to joining Chartres Lodging, she held responsibility for the Revenue Management of the South East region at Orbitz Worldwide. Her operations experience spans several years, brands (Hyatt, Marriott, Taj Group of Hotels) and countries including participating in the expansion of Marriott into India.

Mrs. Agarwal serves on the Board of Directors of the Hotel Asset Managers Association. She is a contributing author in several industry publications and regularly participates in speaking engagements including the Lodging Conference, Hotel Business and Cornell University's Leadership Development Program. Mrs. Agarwal is a Certified Hotel Administrator and holds a Master's degree with distinction from Cornell University's School of Hotel Administration.